Charity is the GCC Tradition and The Amir of Kuwait is the Humanitarian Leader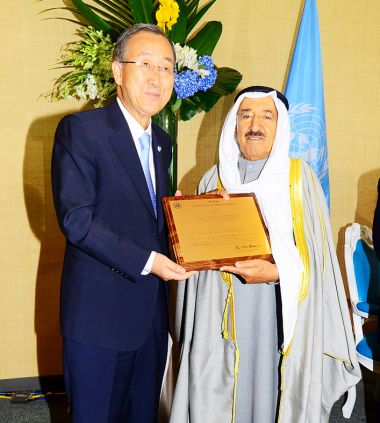 Charity is the GCC Tradition and The Amir of Kuwait is the Humanitarian Leader
Royal Group Charity Foundation confirmed that the act of honoring His Highness the Amir Sheikh Sabah Al-Ahmed Al-Jaber Al-Sabah by the United Nation Organization is considered a historical event and a remarkable evidence of charity and love all over the world.
Royal Group Charity Foundation expresses its sincere congratulations and blessings to His highness the Amir for having the title of Humanitarian Leader.
We further express his praise for the leading role of charitable work through long decades of partnership and cooperation with association and international organizations such as the United Nations Relief and Works Agency and the United Nations Office for the Coordination of Humanitarian Affairs and other national and international associations working in the humanitarian field.
Kuwait is well known for supporting people all over the world who are suffering from humanitarian disaster.
The establishment of the Kuwait Fund for Arab Economic Development is a mechanism extended to disperse grants to people in need all over the world, aimed primarily at construction, health and education.
Today, the amount of money dispersed by Kuwait specifically for humanitarian aid is in abundance.   
Kuwait has contributed over $4.1 billion to humanitarian efforts recently and it has been acknowledged that per capita, Kuwait is by far the most generous contributor in the world.
The United Nations Secretary General officially acknowledged that we are blessed with a great humanitarian leader of our world.
HH the Amir has also worked to encourage other donor nations to provide more support during this time of humanitarian crisis and to contribute to supporting the victims of humanitarian disasters.