The GCC road to a better Africa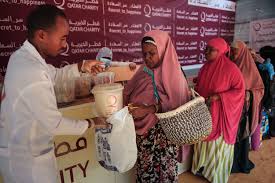 GCC states have strengthened aid ties with various African states.
As well as GCC states generous donations to humanitarian appeals in Africa. Numerous GCC charities have operated throughout Africa since the 1980s. The Saudi International Islamic Relief Organization (IIRO) and the Kuwaiti African Muslims Agency (AMA) were among the first state-sponsored Islamic charities to work in Africa.
Although Gulf Arabs have traded with Africans for centuries, the global financial crisis from 2007 to 2008 motivated GCC states to deepen economic ties with Africa. With economies in the West slowing down, Africa's fast-growing economies and expanding middle classes became an increasingly attractive prospect for investors across the world. Building economic ties in Africa helped Gulf states capitalize on geo strategic location, increase food security, and enhance political reforms. Expanding economic influence in Africa has provided GCC states with most important source of leverage to advance security and diplomatic goals.
GCC states have advanced strategies of economic diversification and reduced reliance on oil by investing in African markets. The UAE invested an estimated $11 billion in capital in Africa in 2016, overtaking Saudi Arabia to become the largest GCC investor and the second largest in the world after China. Gulf companies expertise in the energy sector creates attraction to African states seeking to develop their energy industries. Saudi Arabia recently invested $10 billion in Southern Africa's energy sector. Meanwhile, the GCC ability to execute large-scale infrastructure projects is also appealing to rapidly-developing African states. Dubai's DP World announced an initial $50 million investment in an inland logistics facility in Mali in July 2018, complementing larger infrastructure investments in West Africa such as the Dakar port and economic zone. Qatar also signed a $4 billion deal to manage a Red Sea port with Sudan in March 2018.
The GCC geo strategic location also explains why Africa has been a focus of GCC states economic activity. By focusing on infrastructure development and trade, GCC states are able to benefit from Asian trade and investment flows to Africa. China pledged $60 billion in financing to Africa in 2018 alone and increased its total trade with Africa by 180 percent from 2010 to 2017. The UAE has leveraged its superior shipping and port infrastructure to plug into this potential, becoming the largest GCC trader with Africa. The UAE imported roughly $5 billion of goods from Africa each year from 2010 to 2015, before increasing imports substantially to $23.9 billion in 2016. Africa's growing importance to Emirati trade is apparent from an examination of its imports. As a share of the UAE's total imports, those from Africa quadrupled in the last six years.
The GCC also identified investing in Africa as a way to achieve food security. The GCC considered agricultural investments in Central Asia and Latin America but determined that Africa's rich and underdeveloped agricultural lands held the greatest promise. Africa's geographic proximity to the Gulf was an advantage, it contains 60 percent of the world's total uncultivated arable lands, and its water shortages were deemed surmountable with appropriate investments. Saudi Arabia is the top investor in agriculture in Africa, conducting large scale investments such as its purchase of 500,000 hectares of land in Tanzania in 2009. For Qatar, the most dependent of the GCC states on food imports. The Qatari government announced plans in 2018 to invest half a billion dollars in Sudan's agricultural and food sectors. Qatar also entered into talks with Kenya in 2009 to lease 40,000 hectares of land in the Tana Delta.
As GCC states rapidly expand global footprint, and increase mediating role in Africa, it would continue to broaden and deepen ties with African states. To secure economic interests in an arena of greater international competition, enhance lateral engagement with African governments significantly to ensure that interventions are meeting African governments needs and priorities. Such engagement will help ensure that African governments continue to view the GCC as attractive partners and make interventions safer and more sustainable. Part of this approach should involve building people-to-people ties. The GCC would expand opportunities for educational exchange, training collaborations, and tourism links with countries in Africa to capitalize on the potential of young people in Africa and enhance their reputation more broadly.
This builds a better road to Africa and would contribute to the humanitarian needs and help strengthen the African economy to lead and secure a brighter Africa for the people.
Millions of people still live in poverty and hunger, and are threatened by conflict, instability and disease. Inequality is growing and widening the gap between the richest and the poorest. The lack of discipline, transparency and inclusive governance undermines citizens rights and investor's confidence. The role of governments is vital in implementing those commitments. 
The GCC would continue to cooperate with Africa and help build a transparent road by investing and ensuring that poverty is completely eradicated Africa.