Category Archives:
Others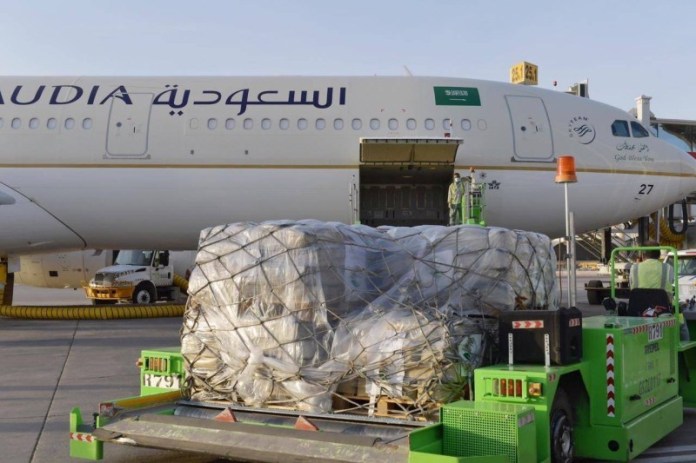 Over the past four decades, the six member states of the Gulf Cooperation Council (GCC) have been the source of large amounts of overseas development assistance, humanitarian aid, and other forms of support for developing and crisis afflicted countries, both through state led channels and through the work of private organizations and individual donors. With their own experiences of rapid development over the past several decades and lengthy experience of working in underdeveloped and fragile contexts. The GCC states have considerable store of institutional knowledge with respect to development.
The Kingdom of Saudi Arabia has reached out to the world in providing humanitarian assistance. The Kingdom's global assistance amounted to billions of dollars which represents 5.8% of the total amount of humanitarian aid provided worldwide.
Kingdom of Saudi Arabia has been able to provide such extensive humanitarian support to those in need thanks to the ongoing commitment by the Kingdom's leadership to alleviating suffering around the world by reflecting these values in committing to supporting people in need worldwide.
Royal Group Charity congratulates the Custodian of the Two Holy Mosques, King Salman bin Abdulaziz, and Crown Prince Mohammed bin Salman on this remarkable achievement.
The United Arab Emirates has been another major humanitarian donor after it offered billion of dollars in foreign aid to reach the most vulnerable communities and the least developed societies in more than 140 countries around the world by promoting policies which improve the economic and social well being of people around the world.
The United Arab Emirates targeted different sectors such as tourism, health, transport, education, social services, infrastructure development water and sanitation, environment and climate change, agriculture with the remaining amount of the UAE's foreign disbursement dedicated to charity and humanitarian aid which were translated in supporting the sectors of health and education, in strengthening coordination and support services, and in the provision of food, shelter and non food items to vulnerable communities.
This achievement of the UAE was made possible, thanks to several governmental and non governmental bodies who are thoughtfully dedicated to alleviating suffering and promoting development around the world.
Money was spent on developmental, humanitarian and charitable projects in 71 countries and on one global project.
Dress One Million Needy Children project was of a global character and it aimed at providing support to more than two million children in 44 countries around the world.
Royal Group Charity congratulates Emir Sheikh Khalifa bin Zayed Al Nahyan, Crown Prince Sheikh Mohammad bin Zayed Al Nahyan, His Highness Sheikh Mohammed Bin Rashid Al Maktoum, and Crown Prince Sheikh Hamdan bin Mohammed Al Maktoum for their continuous efforts and great achievements in humanitarian objective purposes around the world.
The state of Kuwait is an inveterate donor in the world and the largest provider of development co-operation in the Gulf region, providing its assistance under the broad framework of its commitment to the 2030 Agenda for Sustainable Development. Kuwait's official development assistance has been increasing consistently over the past decade. Kuwait Fund for Arab Economic Development provides concessional loans for development projects that are high priority to recipient countries, following a demand-driven approach.
Kuwait uses it's fund assets for development and humanitarian on a national and international level.
The Kuwait Fund allocates more than a quarter of its annual income to the Public Authority for Housing Assistance to help Kuwaiti citizens with their housing needs.
The Fund also originates loans to assist countries worldwide in developing infrastructure, health services, education, energy and agricultural needs.
In addition to the Fund, Kuwait also extends substantial humanitarian aid during natural disasters.
The other source that Kuwait uses to achieve and execute some of its initiatives is the Kuwait Investment Authority, which was established in 1953 to diversify revenues away from oil and to secure the welfare of future generations. Being one of the largest Sovereign Wealth Fund in the world.
Royal Group Charity congratulates Emir Sheikh Sabah Al-Ahmad Al-Jaber Al-Sabah and Crown Prince Nawaf Al-Sabah for their continuous and generous contributions around the world.
Qatar's international relations and foreign policy are also a sign of generosity from the state. Qatar has emerged as a trusted third-party mediator successfully cultivating sophisticated engagements in peace and conflict issues and solidifying its reputation as a key global player in conflict-affected contexts.
Qatar has established a unique position for itself by maintaining, over many years, a campaign for human rights and freedom of expression and by championing a number of humanitarian crises in the region and beyond.
Qatar's role as a humanitarian donor is not under threat and it may even emerge from the crisis with a more sustainable and resilient humanitarian sector.
As a result of the crisis, Qatar's humanitarian sector has been minimized with only Qatar Charity and the Qatar Red Crescent Society as major operational humanitarian actors and Qatar Foundation as a donor for education support. Qatar now more closely resembles other Gulf states in the reduced diversity and size of its humanitarian sector.
The volume of Qatari humanitarian aid has not declined. Rather, while Qatari humanitarian aid levels dropped in 2016, they returned to pre-blockade numbers in 2017, signaling that Qatar intends to uphold its international commitments and maintain its international and regional role through the blockade. What has been observed, however, is a shift in resource allocation with a greater proportion of Qatar's humanitarian financing channeled through multi-lateral organizations.
learning from previous failures and triumphs, Qatar's active role in gaining international recognition as a regional power has evolved from employing reactive, short term strategy to a more sophisticated approach of sustainable long term programming backed by larger financial allocations. 
Royal Group Charity congratulates Emir Sheikh Tamim bin Hamad Al Thani for his effective contribution to realizing the international partnership for development and enhancement of the international developmental aid in relation with assisting the developing countries to achieve the millennium developmental goals.
The Kingdom of Bahrain is one of the Gulf leader and occupying a high position on the World Giving Index. This position is the fruit of the charitable organizations and Bahrain community remarkable efforts and close cooperation with various humanitarian organizations around the world. Under the patronage of His Majesty the King of the Kingdom of Bahrain, Honorary President of the Royal Humanitarian Foundation, the support of the good government and the illuminated leadership of His Highness Shaikh Nasser bin Hamad Al Khalifa, Chairman of RHF's Board of Trustees, RHF is leading the Bahraini charity and humanitarian work to set the name of Bahrain among the most initiating and giving world nations.
Bahrain always tries to be present in most areas that undergo conflict and wars and natural disasters in order to provide humanitarian aid and relief,
The Royal Humanitarian Foundation launched Your Food at Your Home initiative to distribute meals to the needy. 
Royal Group Charity would like to congratulate His Majesty King Hamad bin Isa Al Khalifa, Deputy King and Crown Prince Salman bin Hamad Al Khalifa for the continuous efforts in meeting the international standards for  meeting all humanitarian needs.
The sultans of Oman's main concentration has always been focussed on humanitarian.
The Oman Humanitarian Desalination Challenge is a joint initiative led by MEDRC Water Research and The Research Council Oman with funding provided by The Sultan Qaboos Higher Center for Culture and Science.
Access to clean fresh drinking water following a disaster is critical to health and survival. Current relief response measures often rely on transporting massive quantities of bottled water into the affected population or distributing water purification devices or tablets that don't have the ability to rid water of salt. There is an urgent need for a desalination device that can be deployed quickly and affordably to people in need of drinking water in times of crises. Such a device would revolutionize humanitarian emergency response efforts in the aftermath of natural disasters.
Oman Charitable Organization is a state funded charitable organization engaged in supporting and financing the social care programs intended for the general welfare of the people, children, orphans, elderly people, and the disabled. Oman provides emergency relief in case of disasters or natural calamities.
Royal Group Charity would like to congratulate His Majesty Haitham bin Tariq Al Said for continuous care around the world for children, youth, family welfare, community development, disasters and humanitarian.
Royal Group Charity welcomes the ongoing cooperation between the  Gulf Cooperation Council, and the shared commitment to safeguarding the well being of families and citizens, which serves to underline the world's united stand against COVID-19.